Compound Materials
Flexible Color, Design and Styling
Cabinet facings can be made with a variety of compound materials that provide flexibility in color, design and styling, providing another great option for many homes. Here are some types of compound materials to consider when choosing cabinets.
PureStyle™
PureStyle features a color consistent, velvety smooth finish and clear, integrated top coat that won't crack or craze like painted wood products. PureStyle boasts a true 5-piece construction that effectively emulates the look of painted wood cabinets.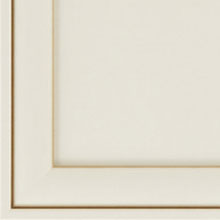 Thermofoil
Thermofoil is a process where heat and pressure are used to bond a thin layer of PVC (Polyvinyl Chloride) film to a shaped and glued component made from MDF (medium density fiberboard). The result is a seamless surface that covers a panel's face and edges. The component back uses a white, seamless melamine surface - excellent for easy cleaning.